Drive Application Components
Drive Application
FT Transformers has been involved with many leading drive and control manufacturers in the design and development of specific ranges of wound components for use with drives. In particular, for phase shifting, we have introduced a range of lower cost high efficiency auto phase shifting transformers.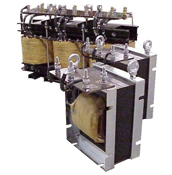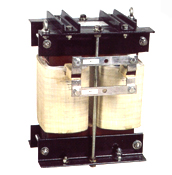 Doublewound Transformers
We manufacture a full range of transformers for use with drives. Where isolation from input circuits or high reactance is required, double wound transformers, with either single or dual secondary outputs, can be supplied. Dual secondary units can be either loosely or closely coupled.
Polygonal Transformers
An interesting option, where isolation is not required, is the use of a polygonal autotransformer which, by design, can still introduce a respectable level of reactance in the region of 2 to 3% into the circuit.
This method has the advantage of being more cost effective, efficient and smaller than the double wound equivalent.
The polygonal transformer is particularly useful when a 12 pulse system is required at the system voltage. It provides a ±15º phase shift at the output terminals.